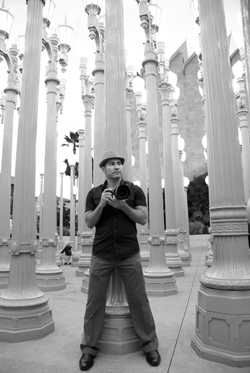 I really don't remember when was the first time I took a picture. What I do remember is opening my first film at broad daylight to pretend I was developing it. I think this probably happened when I was around five years old. Since then I've been fascinated with photography.
When I was 15 my mother enrolled me in a photography class at the University of Puerto Rico, Carolina Regional. I learned everything about black and white film development, apertures and their relation to depth of field, speeds and other techniques. This was a 12 weeks class but it definitely helped from the foundation for what was to come.
A few weeks after I enrolled in Central High de Artes Visuales. My emphasis was artistic photography. I studied photography for three years. At Central High de Artes Visuales I learned to develop color slides and to apply special effects to black and white pictures.
While I was attending my last year at high school I photographed my first wedding and after I graduated I photographed my second one.
Shooting in film was a lot of fun but as the digital era arrived I quickly embraced digital photography. I started with a point and shoot camera since SLR technology was very expensive. Around five years ago I bought my first digital SLR camera and I have been addicted to digital photography ever since.
My current interests are fashion photography, portraits, dawn and dusk landscapes, HDR and light control.
I hope you enjoy my photography and feel free to email me any comments!
Nelson Vega